ธนาธร-ปิยบุตรโดน(หมา)ขู่ฆ่า
:
โลกรู้แต่คสช.เมิน...
ธนาธร-ปิยบุตร เขาตั้งพรรคการเมืองเพื่อมาอาสารับใช้ประชาชน...
แต่โดนลูกสมุนเผด็จการอำมาตย์เปิดเฟสบุ๊ค  "ขู่ฆ่า " เห็นกันทั่ว...แต่คสช.ไม่ว่าอะไรสักแอะ..
โลกประชาธิปไตยเขาทนไม่ได้..
Bloomberg
เอาไปตีเป็นข่าวใหญ่อย่างละเอียด..
สื่อต่างชาติสำนักต่างๆก็เอาไปเผยแพร่ต่อ...ให้เห็นกันทั่วโลก..
คนรุ่นใหม่ออกมาต่อต้าน...ไล่..นั้นชอบแล้ว...
เชิญอ่านข่าวครับ
:
Thai Tycoon Gets Death Threats Weeks After Registering New Political Party
·

        
New party leader says constitution an unworkable 'time bomb'
·

        
Thanathorn wants to decentralize power, break Thai oligarchies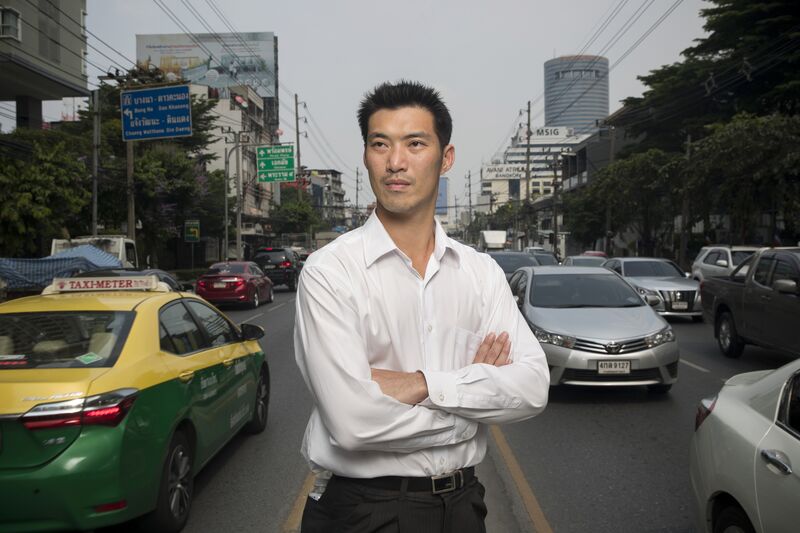 Thanathorn Juangroongruangkit
Photographer: Brent Lewin/Bloomberg
Thai auto parts tycoon Thanathorn Juangroongruangkit has already been threatened with death just weeks after registering a new political party.
The 39-year-old executive isn't shy about taking on some of Thailand's most powerful players: He wants to do away with military rule once and for all, give regional governments more control over money and break up entrenched oligopolies.
"It will be a dangerous game," Thanathorn said in an interview Monday. "We are playing with people who have no respect for human life."
His new party, Future Forward, is taking direct aim at the military rulers who seized power in 2014 and installed a new constitution that entrenches the power of non-elected soldiers, judges and bureaucrats at the expense of elected politicians. The coup was Thailand's latest in about a dozen following the shift to a constitutional monarchy in 1932.
Junta leader Prayuth Chan-Ocha, who also serves as prime minister, said last month an election would be held no later than February next year, with new parties allowed to register from March 1.
Thailand's Stop-Go Democracy Awaits Next Green Light: QuickTake
Thanathorn doubts that plan, saying he doesn't think the military "will give up power so easily." Sansern Kaewkamnerd, a spokesman for Prayuth's government, rebutted that assertion on Tuesday: "There will have to be elections in February next year."
The executive vice president of Thai Summit Group, an auto parts manufacturer founded by his late father, Thanathorn said his family's fortune was estimated at around $800 million several years ago. He declined to give an updated figure.
While it's still early days, Thanathorn said he's encouraged by polls showing his party running third behind Pheu Thai and the Democrat party, the two major organizations that have dominated Thai politics over the past decade. Pheu Thai consists of allies of former Prime Minister Thaksin Shinawatra who have won the past five elections.
Thanathorn said he voted for Pheu Thai in the last election, but now "they are not fighting for democracy." He said Thailand's constant military coups have hurt the economy.
Thailand's economic growth has lagged peers in Southeast Asia, partly due to moderating consumer spending and private investment. The military-led administration is trying to accelerate major infrastructure projects, put more money in the pockets of low-income people and reduce red tape to bolster the outlook.
Lagging Growth
Thailand's economic expansion trails behind neighbors
The current constitution was drafted by a military-appointed panel and approved by voters in a 2016 referendum held under an oppressive environment in which campaigning was banned. 
Thanathorn called the document a "time bomb" that no elected government could work with.
"We will propose to amend the constitution, the military bill, and other bills that oppress the freedom of speech," Thanathorn said.
Thanathorn said his party doesn't yet have consensus on changing Thailand's lese-majeste laws, which are among the world's toughest. Offenders can get jail sentences of 15 years for defaming, insulting or threatening members of the royal family.
The laws can end up being used as a "political tool" by "conservatives to destroy their enemies," Thanathorn said.
"Many people I know, good people I know, are in jail because of this," he said.
Piyabutr Saengkanokkul, who co-founded the Future Forward party, had earlier proposed amending the law so that only the Bureau of the Royal Household could file a complaint, Thanathorn said.
"Piyabutr and I were threatened last week to death by an ultra-conservative," Thanathorn said, referring to a Facebook post allegedly written by a former deputy police commander. The author of the post accused the pair of speaking ill of the royal institution and said that he had "lost count" of the number of "evil" people he had killed, before adding that "you guys would be easy for me."
National deputy police spokesperson Krisana Pattanacharoen didn't respond to telephone calls seeking comment on whether the threat was being investigated.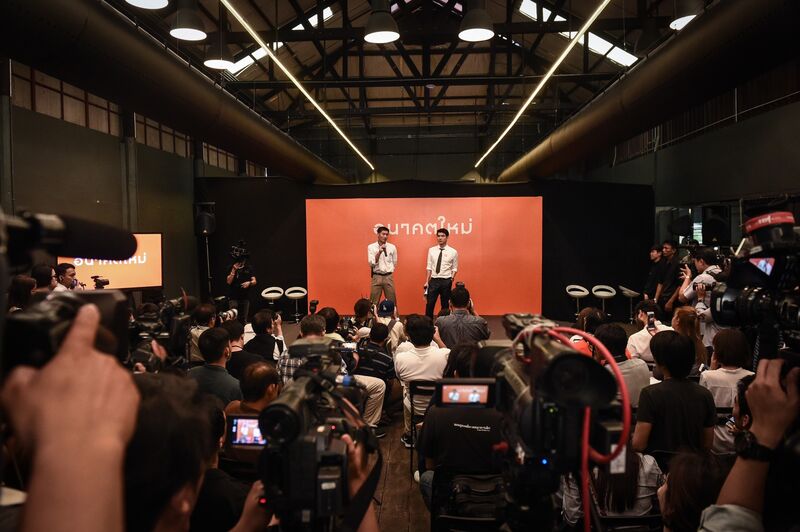 Juangroongruangkit and Piyabutr Saengkanokkul, co-founders of Future Forward, at the party's launch event on March 15
Photographer: Lillian Suwanrumpha/AFP via Getty Images
'Big Fight'
Thanathorn said another key plank was to empower provinces to select their own governors, collect their own taxes, and issue bonds for public projects. Currently they need to go through the powers that be in Bangkok.
"The current system is not very friendly to creativity, to constructive proposals," he said.
His third key policy would be to break up what he sees as powerful oligarchies dominating industries including banking, retail and agriculture, describing the task as a "big fight."
"Lots of sectors are currently being manipulated, controlled by only a few players and these players are protected by law," Thanathorn said.
Thanathorn said his strategy for winning the election isn't yet finalized. He said he's seen estimates that his party could win anywhere from one to 100 seats in the next parliament among the 500 up for grabs.
"Someone has to say no more military coups in this country," he said. "That's what we want to do."
https://www.bloomberg.com/news/articles/...ing-elites
นานาสาระ